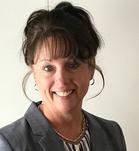 Kelli Scott
Mrs. Scott played an active role in the founding of the corporation in July 2000. Started out as the secretary for the company, she quickly advanced to the position of Vice President in October 2000, where she has been a vital part of the growth of the company.

In February 2016, Kelli was elected as the company's President. Being the company's President, Kelli oversees the complete operation of New Direction Utilities, Inc., while consistently looking for growth opportunities in the surrounding utility markets.

Kristian Dietrich
Mr. Dietrich pays attention to detail while identifying hazards at workplace. He is a TapRoot investigator along with OSHA 10 and OSHA 30 trained. He is also our CPR first aid and confined space instructor. His vast knowledge in the safety field helps our team excel in quality and safety in the workplace.