New Direction Utilities Inc specializes in a wide range of services. Be it cable removal, splicing, overhead division, equipment, reel building, or crane truck and hauling, we have got it covered. We pride ourselves in being a turnkey factor and strive to exceed our customers' expectations.
Cable scrapper combines the power and innovation, which is necessary to provide easy and effective access to some of the most challenging conduit environments.
Maximum Nominal Cable Diameter

Maximum Nominal Extension of Pulling Frame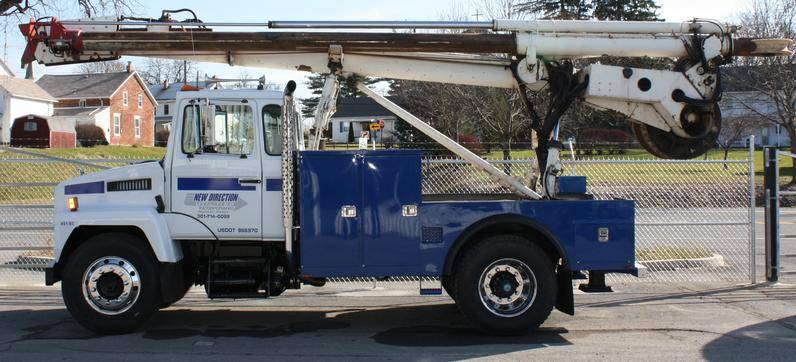 New Direction Utilities Inc offers full cable splicing and terminating services ranging from low voltage secondary (110v) to 35 KV. We are fully capable of hauling and setting transformers, installing (or removing) cable, racking, splicing, and terminating as needed. All of our splicers have been certified by AVO Training Institute, BGE, and PEPCO.
New Direction Utilities Inc is proud to announce our new overhead distribution division. We have the ability to safely build overhead utility lines to our customers' needs and specifications.
At New Direction Utilities Inc, safety is the foundation for everything we do. From bidding and project planning, all the way to construction and closeout, safety is fully integrated into all aspects of each project that we take up.
Our overhead division management team has a combined 35 years of experience in the utility business, giving us the experience to plan, execute, and build your project on time.
Our specialized underground cable equipment allows us to get jobs done in an extremely safe manner, and at a rate that's faster than anyone else's in the industry. We carry a variety of equipment.
New Direction Utilities Inc builds reels for electrical utility companies. These reels were specifically built for PECO Electric in Philadelphia, PA. We offer this service on demand and can offer completion, including delivery and possibly re-spooling of cable, with a very short turnaround time. All of these reels were custom fabricated, painted, loaded, delivered, and re-spooled for the customer within a few weeks' time frame.
Crane truck has a 60 metric ton Fassi F600AXP26L414 Knuckleboom crane. This crane without a jib, horizontally lifts 35,000 pounds at approximate 10 inches. It lifts over 6,000 pounds at 53' 6" and with a jib, it reaches over 85 feet horizontally.
With jib installed, it can lift more than 3,500 pounds at 60 inches approximately, 2,800 pounds at 68 feet, and over 2,000 pounds horizontally at its maximum reach of 85' 2" or 85' 9".
Our crane truck is capable of completing a massive variety of tasks not limited to the utility field.
Its high capacity and extremely long reach means that it can also be used for various tasks.
New Direction Building Inc offers a multitude of hauling services. With four road tractors and a variety of flatbed, Moffett loader trucks, stake bodies, and dump trucks, we can handle almost any imaginable hauling that you may need.
Our trailer fleet includes a 55-ton tri-axle lowboy, a 65-ton detachable beam trailer, a 48 foot aluminum flatbed trailer, a 5,000 gallon vacuum trailer, 2x hydraulic dovetail trail king trailers, and various other tag along trailers with dual or tri-axle arrangements.
We commonly haul equipment for various both local and long distance customers. We also haul all of our own equipment, and often find ourselves hauling large cable reels for local regional utilities.